Reply
Topic Options
Mark Topic as New

Mark Topic as Read

Float this Topic to the Top

Bookmark

Subscribe
Highlighted
Pokey's Guide to Effective Shotgun Diplomacy
99 replies 1397 views Edited Apr 6, 2011
(Please Note, this guide was written Pre-2.0 and I have not taken the time to update it on this site.)
Welcome to Pokey's Guide to Shotgun Diplomacy!
A Shotgunner is a very rewarding build which will allow you to rack up a lot of kills as well as the ability to take on large groups of enemies by yourself. This in turn will allow you capture and defend objectives more easily and thus earn you a lot of points. However, it is not without its downsides. For one, the shotgunner is more or less the opposite of a sniper. Instead of hanging back and picking off enemies with highly precise shots, the shotgunner jumps into the heat of battle, gets up into the targets face and pulls the trigger before they know what's going on.
As a result, being so close to the fight, you'll be dodging a lot of bullets, and as a result you'll be dying, a lot. So if you're overly obsessed with your KDR, hit the back button on your browser and go find a nice sniper guide. Now don't go thinking you're going to be dying 5 times for every kill you get. You can easily get a KDR of over 1, but I wouldn't get your hopes up for a 90-5 game. Regardless of the KDR, you can and will score a lot of points and frequently find yourself near the top of the scoreboard.
This build is 50% Instinct, 10% Luck, and 40% Technique. I can't help you with the first 60%, but lets see what we can do to polish the rest of it. Simply follow these rules, and start kicking some ass.
Rule #1 Know Your Weapon!
The key to being successful is to understand how the shotgun operates. The shotgun works by firing out several pellets in a random pattern outward in the shape of a cone. These pellets have a chance to hit anywhere within an imaginary circle, which grows larger the further away the target is. Since our goal is to make all the pellets hit the target, the closer you are, the smaller the circle, and thus the pellets are far more likely to be grouped together and hit the target.
Above is a diagram showing the same pellet pattern at different ranges. As you can see close range causes all the pellets to hit the target, where at long range over half of them miss altogether. With that said, this clearly makes the shotgun a close range weapon. And although it can be used at medium ranges, you are much more likely to do very little damage or miss completely. Therefore, try to stick to CQC (Close Quarters Combat) as much as possible. Keep in mind that the spread within that circle is always random, and therefore there is the possibility that some of the pellets will miss even at close range. That's the 10% Luck I mentioned earlier, I know it sucks but get used to it, the ability to 1-shot is well worth the gamble.
As you know, similar weapons between factions do vary in stats. The shotguns for the most part are possible the most similar to one another but differences still exist. For example, SVER's T-195 holds 7 rounds, Valor's 12 Gauge Pump holds 8 rounds, and Raven's Boudini 12 Gauge holds 5 rounds. Zipper commented in their 4th Podcast that the more shells the shotgun holds, the slower its rate of fire. This makes Raven's fire the fastest, Valor's the slowest, and SVER somewhere in between. There are other differences which are often a topic of much debate that I will not get into. My suggestion is that you take your shotgun into Suppression and try it out before you get into any big battles. Fire it at a wall and observe how the pellets hit the wall at different ranges. Ultimately though, only experience will teach you exactly how your shotgun operates, so get out there and experiment!
Rule #2 Be Passively Aggressive!
Fighting as a shotgunner involves using two distinctive play styles and being able to switch between them at a moment's notice to fit the situation.
Part 1: Be Aggressive! This mostly applies to when you're attacking. You should always be leading the pack after your squad spawns. Be the first to rush in, and be the first to pull the trigger. This build relies on you being hyper aggressive and always advancing against the target. You're a short range fighter, meaning if there is any significant distance between you and the enemy, you're at the disadvantage. There are a couple ways to help overcome this disadvantage, we'll cover a few now and get to the rest a bit later.
Running directly at someone with a longer range weapon is suicide. In order to close the distance safely, I like to employ a technique I call Spiral Strafing. This involves strafing to the side as you also move towards the target in a spiral fashion. This makes it difficult for your opponent to hit a moving target as well as closes the distance between you and your opponent. (Note: These techniques can also be applied to other types of weapons)
When you are within firing range, start attacking your opponent but continue to spiral strafe around your target. Remember, the closer you are the more damage you'll do, so always be aggressive and continue to advance on the target. (Note: Diagrams are not to scale)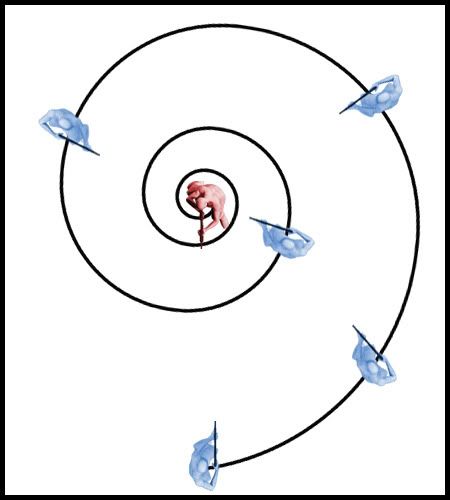 Sometimes you may not have enough room to make wide sweeping arcs around your opponent. For more confined areas, employ a technique of moving towards your target while zig-zagging back and forth. Moving in an uneven pattern will throw your opponent's targeting off and make you harder to hit. If there is cover in the area, be sure to take advantage of it as you approach your target. As always, always push forward and when you're within range, fire away.
Part 2: Be Passive! This mainly applies to defending. Because the shotgunner relies on short distances between himself and his opponent, the easiest and safest way to achieve this is to close the distance without your target knowing, or better yet, let them get close without knowing that you're there, then pull the trigger. The key is to remain undetected while knowing exactly where the enemy is as they get closer. Don't fire too early and give away your position! The goal is to take out the enemy in one shot before they even know that you're there. Study your maps, find choke points with good places to hide, and use them to rack up kills. Two excellent tools to achieve this are the motion sensor and smoke grenades. The motion sensor will show you the position of mostly all enemies in your area and allow you act accordingly. Also, a well placed smoke grenade will allow you to advance on an enemy without them having a clue where you are.
Remember, if you stay in one spot too long, eventually you'll have a whole squad coming after you. So be sure to move around, and when you do be sure to crouch and avoid sprinting as much as possible. You need to be constantly adapting to the situation and staying one step ahead of the enemy.
Rule #3 Use Your Backups!
You will often find yourself in a situation in which your shotgun is not the best choice. One of these situations is when you're facing off against an enemy from a distance and you have little to no maneuverability other than straight at them. I great example of this is the catwalk in SVER's Sabotage C. Now remember, running straight at them is suicide, so you have no choice but to engage them in long range combat. So it's time to pull out the only long range weapon you have, that's right, I'm talking about your handgun. The handgun is an incredibly strong weapon that guarantees an instant kill with a clean headshot, regardless of what armor they're wearing. It certainly is not the best weapon suited for medium to long range fighting, but it is the best you've got next to the shotgun. Do you best to maneuver away from the enemies fire and keep shooting at their head. A well placed headshot can make the best out of horrible situation and keep you alive.
As you may know, the shotgun has an incredibly small capacity. In fact it is the smallest capacity gun in the game (except for explosives like RPGs and the grenade launcher). This means that you can easily run out of shells in the heat of the battle (I'm looking at you Boudini 12 Gauge. Luckily Raven's handgun has the highest capacity, so it balances out). With this in mind, unless your gun is full, you're shooting, or you're dead, you should be reloading. Don't worry about ammo reserves either, all shotguns come equipped with 80 rounds in reserve (Minus the capacity of the gun) so you should never run out. Even when I'm playing at my best rarely will I fall below 30 remaining before I'm forced to respawn. Even so, when taking on a large group of enemies, the situation where you will need to re-load in the heat of battle can occur. Now, because the gun is reloaded one shell at a time, it is possible to fire in the middle of the reloading animation. However, the half a second it takes to load another shell, pump the barrel, and fire, may be the death of you. It takes far less time to draw you handgun and shoot them in the face, and even less time to slash them with your knife. Therefore, when facing off against an opponent and you find that your shotgun is empty, use your backups! If they're in knife range (And I highly recommend the advanced knife skills) slash them, and if they're too far away, switch to handgun (Again, advanced sidearm skills would help this immensely. Even if it's just Sidearm Swap speed, the fraction of a second it saves can save your life).
Backups are there for when things go wrong, may it be a tricky situation or a lack of ammo, be sure to understand and know how to use them effectively to stay alive.
Rule #4 Trust Your Instincts!
As I said before, being a good shotgunner is 50% instinct. Your survival depends on your reflexes being faster than the other guy's. Battles with a shotgunner are won with a single shell, so if you want to win, best you pull the trigger first. Try to get a feel for the battlefield, anticipate your enemies movements and try to understand how they're thinking and reacting to events on the battlefield. If you understand how they think and fight, you've already won. Outwit and outmaneuver your opponent then shoot and ask questions later. Always be thinking and analyzing your situation, but when you see a target 2 feet in front of you, the only thing on your mind should be pulling that trigger. Hesitate and you will die, simple as that. Also, apologize whenever you shoot your squadmate in the face accidently and then tell him he's an idiot for wearing colors similar to the other team.
Rule #5 Be a Team Player!
This goes without saying for any class, but, never wander too far away from your squad. They are your life and blood on the battlefield, and most importantly, the people who will spray you with the magic dust when you get yourself shot. That being said, you must, and I mean MUST, carry a medkit in every loadout. And for the love of god, get the improved resuscitation skill. Not only does it award you double points, but it drastically increases the survivability of the people you revive. If anyone is best suited to take out a room of 6 hostiles and revive half a squad at the same time, it's you. A shotgunner is tough, beefed up with high class armor and passive skills to boost survivability, it is your job to jump in and get the job done, may be it be take out a squad yourself or revive an ally in the heat of battle. You take care of them and they'll take care of you. Simple, right?
Rule #6 Work the Crowd!
Taking on multiple enemies at once is something that a shotgunner excels in. Remember though, running haphazardly and shooting at a group of people can be a deathwish if done incorrectly. The key to effectively taking out a group of opponents is all about angle. By using the spread of your weapon against your opponents, you can maximize damage, while minimizing your chances of getting fragged for 4 different angles at once. (Note that spread shown in diagrams is not necessarily to scale. As stated before, take your shotgun out and test the spread against a wall to get a better feel for the effective range of the weapon)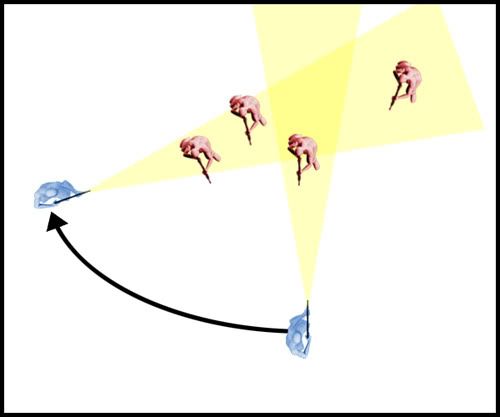 The above diagram shows the correct and incorrect way to take on a group of enemies. In the initial position, you may take out that target, and then be quickly gunned down by his 3 friends. By moving to the side and lining them up, you greatly increase the effectiveness of your shotgun. At the secondary angle, the enemies are more closely packed. This not only assures that all of your pellets hit a target, it also can obscure the vision of enemies near the rear of the line, effectively reducing the number of opponents you're fighting at that moment. As the targets in the front of the line fall, move closer and keep attacking those left standing in the back. This technique can also be used in conjunction with a smoke/poison gas cloud to maximize you're your survivability.
Rule #7 Don't Always Aim for the Head!
No I haven't lost my mind, just hear me out. Normally aiming for the head is generally the best course of action, but there are exceptions. Remember earlier when we discussed how pellets at long range often miss completely? This effect can be greatly minimized by slightly changing your aim.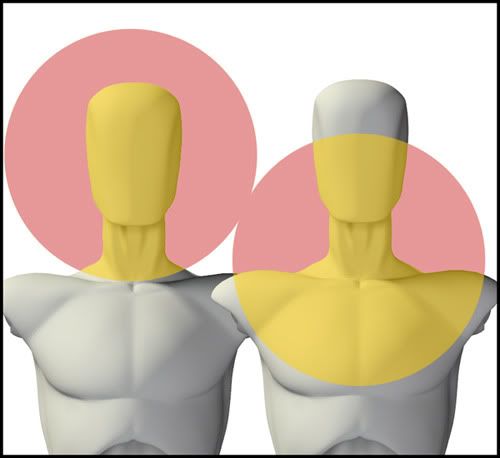 The above diagram shows the difference for aiming directly at the head and aiming at the upper chest/neck at long range. The red area shows the area where, if the pellets fly, will miss the target. As you can see, about 70% of the potential area is red, meaning that on average, 70% of the pellets will miss the target. By aiming a bit lower, we can reduce that red area to about 30%. Granted, the critical headshot area is reduced slightly, but the massive increase in % Chance to Hit outweighs the loss in damage. After all, a body shot still does more damage than a complete miss.
Rule #8 Stick With It!
At first, the shotgun can be frustrating. It's difficult to a good feel for combat, and you may find yourself frustrated with the weapon at first. You will miss a lot and get killed a lot at first, but don't give up! Learn to overcome the weapons disadvantages and soon you will be kicking more butt than ever before.
Rule #9: Enjoy the Proximity Chat!
Naturally you'll be hated by everyone you blow away in one shot. They'll likely scream some bull over proximity chat "f-ing shotgun scrub!" is my personal favorite, but don't worry about it. They're just jealous that you killed them with a weapon they didn't have the patience and skill to get good at. When they come back for vengeance, sneak behind them, put the muzzle to the back of their head and heckle them a bit before you pull the trigger. Really the most important thing is to have fun, that's why you got the game right?
Skills
Required Skills
Athleticism:
Improved Shot Detection, Improved Sprint Recovery, Improved Stealth, Increased Endurance, Explosive Resistance, Chemical Resistance, Increased Health
Close Combat:
Close Quarters: Reload Speed, Close Quarters: Improved Stability, Shotgun (Note: DO NOT waste your skill points and cc on the reflex sight. The shotgun should ALWAYS be fired from the hip, and the reflex sight does nothing to increase the accuracy. It is literally a complete waste and totally useless)
Support:
Medical Kit, Improved Healing, Improved Resuscitation
Total Required: 38
Suggested Skill:
Personal Defense:
Side-Arm: Reload Speed, Side-Arm: Swap Speed, Side-Arm: Refire Time, Knives: Improved Speed, Knives: Expanded Reach
Athleticism:
Impact Damage Resistance
Electronics:
Gear: Acoustic Locator. Gear: Explosive Detector, Gear: Sensor Jammer, Gear: Motion Detector
Support: Improved Repairing
Total: 60
You can Substitute Refire Time and Impact Damage Resistance/Improved Repairing in order to get the Machine Pistol. Personally I don't like it because it consumes 200c in the loadout screen, but ultimately it's of personal preference.
Suggested Loadout:
Weapon: Shotgun (You better not let me catch you with a reflex sight on that thing)
Backup: Pistol
Gear 1: Medical Kit (Be sure this is in Gear 1 and not 2, it will allow you to heal faster on the go)
Gear 2: Motion Sensor
Heavy Gear: Sensor Jammer (For General purposes/Stealth), RPG (For when attacking bunkers/APC) or Frag Grenades (For when dealing with large groups of personnel)
Armor: Advanced Medium Armor
This loadout and skillset provides a nice balance between short range power, speed, protection, and stealth. You'll be able to take out bunker turrets and APCs by yourself and easily clear rooms and other closely packed areas. After patch 1.06, Sensor Jammer now works against motion sensor. Pair this with improved stealth and you're a ninja, so be sure to consider it for your loadouts. Improved Healing and Resuscitation will allow you to quickly revive your allies to peak fighting condition and fully heal injuries within seconds. The Advanced Medium armor gives you a high level of protection without hindering your speed. The Motion Sensor will give you complete control over the area around you by telling you exactly where your enemies are at a moments notice.
---

Shadow20128 wrote:


nice guide, here's another good loadout:

primary weapon - shotgun (400c)

secondary weapon - pistol (0c)

gear 1 - medkit (1000c)

gear 2 - motion sensor (800c)

heavy - anti-personnel mines (800c)

armor - improved light armor

it's a good loadout for defending quickly place the mines, then go shotgun. if someone kills you at least you'll still have the last laugh.

---
Now personally I don't like using anti-personnel mines because I prefer the added defense, plus I don't like spending the 2 skill points to get them. However I can't ignore the fact that they can be very useful for defending an objective or position. Place them in a well hidden spot near a choke point where enemies are likely to run through. In addition they can be used to guard your back while repairing ect. (Remember, don't sit and camp in the same spot the whole time. It's a dikk move and not an effective way to fight.) Just be careful when you place them; even though allies cannot set them off, if they're too close to the explosion then can be killed. Also, do not place them too close to one another, as often they'll set each other off and ruin a perfectly good mine.
So let's recap everything we've covered:
Understand how the shotgun works and how it operates at different ranges.
Never charge straight at the enemy, always strafe to the side and constantly push closer.
If the enemy doesn't know you're there, be stealthy and get as close as possible before shooting. Don't fire too early and give away your position.
Use your sidearm for when you need to fight at a long range, and be sure to use it and your knife when your shotgun is empty.
Trust your instincts and try to anticipate the enemies movements. If you can outwit them, you can out maneuver and kill them. But remember, when you're face to face, don't think, fire. The quicker draw wins the fight.
Be a team player! Always carry a medkit and heal/revive those in need. Not only is it a great way to make points, but helps your team as a whole and helps to develop camaraderie.
Line em up! Always try to obtain the optimum angle of attack when assaulting a large group of enemies. By lining them up, you not only increase your attack abilities, but also decrease theirs.
Adjust your aim to fit the situation. Remember aiming directly at the head from a long range probably won't do much damage. When your target is far away, aim lower for the neck or chest to optimize your damage output.
Don't give up on the shotgun too quickly, stick with it and try to follow the rules I've outlined. With patience and practice, anyone can be a great shotgunner.
Do NOT use the reflex sight on the shotgun, it is a waste of Skill Points and cc in your loadout.
Have fun with it! Enjoy pissing people off because you're a better player, after all you earned it with all your hard work and perseverance.
Well that's all I have to say for now. I hope you enjoyed reading this guide and I hope it helps you become a better player, regardless of what faction you're on. Remember, despite all the animosity between PMCs and all the banter about balancing issues with weapons and maps, we're all just players in the same game. We're supposed to be having fun, and while friendly competition between factions is fun, don't take it too seriously or it ruins it for everyone. Again, thank you for reading, thank you Zipper for developing the game that pulled me into the world of FPSers, and I hope to see you all sometime soon on the battlefield.
Version History
1.00 - 6/18/2010
Initial Post! Thank you everyone for being my allies and opponents in MAG. Your skillful fighting allowed me to develop the techniques I use and were key in improving me as a player.
1.01 - 6/19/2010
whitefox_black informed me of some more information that I was not privy to about the differences between each factions' shotguns. I have updated that section, thank you!
1.02 - 6/19/2010
Added another potential loadout and a small segment about the use of claymores with a shotgun build. Shadow20128 & BradyhahaALT brought up some good points about the use of claymores, thank you guys.
1.03 - 6/21/2010
Just added a little bit about the evils of the reflex sight and some mention about ammo reserves.
1.04 - 7/14/2010
Updated some information on Sensor Jammer and loadout data.
whitefox_black
Fender Bender Registered: 04/19/2010
Offline
4669 posts
Re: Pokey's Guide to Effective Shotgun Diplomacy
Jun 19, 2010
You mentioned at one point the differences of each of the faction's shotguns.
You pointed out the ammo difference, then said other things were up to debate.
I just wanted to say that in the 4th podcast they said that the more rounds, the slower the fire rate when it came to the shotguns.
So Ravens shoots the fastest, SVER the middle, and Valor the last.
Re: Pokey's Guide to Effective Shotgun Diplomacy
Jun 19, 2010
great guide!!! thanks very much, i'll be referring to it soon when i'm picking up the shotgun to try out.
lol @ diplomacy.
______________________


recuss... resucsi.... resussi.... resuscitation

melov315 wrote:
You should lose when attacking folks...Its not supposed to be "balanced" in your favor...you think when Valor, Raven, or s.v.e.r. were setting up their defense they said, "Hey, lets put a wall here, so when the attackers come, it will be more fair, and it will give them a chance." Pahlease!
Re: Pokey's Guide to Effective Shotgun Diplomacy
Jun 19, 2010
---

whitefox_black wrote:


You mentioned at one point the differences of each of the faction's shotguns.

You pointed out the ammo difference, then said other things were up to debate.

I just wanted to say that in the 4th podcast they said that the more rounds, the slower the fire rate when it came to the shotguns.

So Ravens shoots the fastest, SVER the middle, and Valor the last.

---
Thanks for the info! I've been meaning to listening to those things, it just always slips my mind. I've updated the guide and noted your help in the version section.
I will of course gladly take any more information I missed about my favorite gun and put it in the guide.
Re: Pokey's Guide to Effective Shotgun Diplomacy
Jun 19, 2010
what about claymores you cant have people sneaking up behind you can you? i use claymores all the time and i always get at least 2 people that try to kill me from behind. mabee you should add a section on how to use claymores and other weapons to your advantage and increase survivability like if your at the spawn and there is a sniper retreat slowly but before you do plant a claymore when he comes after you he gets blown up you can continue your killing spree
Re: Pokey's Guide to Effective Shotgun Diplomacy
Jun 19, 2010
nice guide, here's another good loadout:
primary weapon - shotgun (400c)
secondary weapon - pistol (0c)
gear 1 - medkit (1000c)
gear 2 - motion sensor (800c)
heavy - anti-personnel mines (800c)
armor - improved light armor
it's a good loadout for defending quickly place the mines, then go shotgun. if someone kills you at least you'll still have the last laugh.
Re: Pokey's Guide to Effective Shotgun Diplomacy
Jun 19, 2010
Thanks both of you for the insight into the use of claymores. Generally I don't use them so the idea to add them tot he guide slipped my mind. I've updated that section and given proper credit.
Re: Pokey's Guide to Effective Shotgun Diplomacy
Jun 20, 2010
My favorite thing that gets yelled at me is "Muthaf*cking shotgun wedding wh*ore, di*k, F*AG*GOT!!!!" I calmly replied with as simple jab at his choice of LMG (the real n00b weapon of choice) and a squat to the face. Great guide by the way I prefer using frag grenades as opposed to smoke grenades because when you use them right (something I still need to fine tune myself) they offer better cover then a building (makes them run for cover while you advance)
Re: Pokey's Guide to Effective Shotgun Diplomacy
Jun 20, 2010
"My favorite thing that gets yelled at me is "Muthaf*cking shotgun wedding wh*ore, di*k, F*AG*GOT!!!!" I calmly replied with as simple jab at his choice of LMG (the real n00b weapon of choice) and a squat to the face."
Yeah, I've had that. I find a world-class teabagging followed by a pistol shot to the head shuts them up. Ontopic, Great guide and I'll try that spiral strafe out later.
-------------------------------------------------
Seryi Volk Executive Response!