Reply
Topic Options
Mark Topic as New

Mark Topic as Read

Float this Topic to the Top

Bookmark

Subscribe
Highlighted
Re: Anyone have sacred 2?
Anytime Noob.
When I grab a mic I'll let ya know, and if ya want, we can run TW2 maps (I have it) or Sacred 2 (looking for a copy)

Also, if you want a fun dungeon crawler, look into Dungeon Hunter: Alliance
It has a pretty good single player campaign / story, and the online a lot of fun. Best of all, its only $14.99 ((LOL, yea, Im cheap)
Im pretty sure theres a demo for in on PSN.
Ive played it through once as a wizard, and am looking to do it as a rogue.
Re: Anyone have sacred 2?
Ok, cool. Im up for any multiplayer..we seem to like the same genre. Im having trouble finding sacred 2 , should have the other games in about a week. Looking foward to doing something, never was into the trophy aspect of games but I know alot of people are, maybe that would be interesting. Thanks again..talk to you soon
Re: Anyone have sacred 2?
[ Edited ]
I as much as I love hack & slash games did not like Dungeon Hunter Alliance
I am a Huge Two Worlds 2 fan (online anyway) and am lvl 134 if I remember correctly.
also LOTR war in the north is excellent and I also own that and Sacred 2 also Dungeon Siege 3 and wouldn't mind playing them again
PSN I.D. - SSlarg
I have a mic
also I loved Kingdoms of Amalur and Dragon's Dogma
they were the best of the best this year (38 studios will be missed)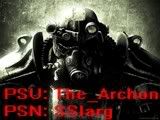 Games I am Currently Playing: DC Universe Online, Battlefield 4
PREORDERS: DESTINY (PS3) Diablo III Expansion (Reaper of souls) PSN: SSlarg add me!
Re: Anyone have sacred 2?
Thank you for the input SSlarg, Im in the process of buying all those games. Please feel free to shoot me a friends invite, Id love to play any or all of them. I also love Kingdoms of Amalur, nearing the end now and will replay with a caster (currently 2 hand warrior). I love the melee in that game. Its a pity we dont have any quality rpg/hack and slash titles on the ps3. For that matter, any online coop games (other than 1st person shooters). Hopefully these will fill that void for a while.
Re: Anyone have sacred 2?
[ Edited ]
I liked TW2 online as well, (though a successful village eluded me) but I stopped playing because no one was ever on. Well, except the elitist azzhats that would kick you from their game if you werent max level with the best of everything.
Reminded me a lot of World of Warcraft (the players, I mean)

I hear many good things about Kingdoms of Amalur. I tried the demo, but wasnt impressed. Am I missing something? Is the demo so badly crippled that it isnt a true representation of the game?
I got turned off Dragons Dogma when Capcom released their day one DLC. Thats just a peeve of mine
Re: Anyone have sacred 2?
Cant blame you with Dragons Dogma dlc. I seem to remeber Mass Effect 3 pulling a similar stunt and later making it free. I love every minute of Kingdoms of Amalur. I find the melee alot of fun. Not a single slowdown/glitch/lockup (looking at you Skyrim ). some of the dungeons/houses are the same or very similar in layout, but tht didnt bother me. I enjoyed as much if not more than skyrim. Will be playing thru it again as a caster one day. Im getting two worlds, however trying to decide between velvet (game of the year download on psn) or just the regular two worlds which i found locally. Do the dlc add anything to multiplayer or can you play and enjoy just the regular version online ? I reluctantly admit having played wow for 4 years (quit 2 months ago) abd couldnt agree more. Good game, lousy community.I do miss sitting in vent with a bunch of fun adults talking and playing tho. Something im looking for here with the ps3, but so far have not found, lol.
Re: Anyone have sacred 2?
[ Edited ]
just to warn you, if you buy the Velvet Edition of Two worlds 2
you Cannot buy the Defence dlc and install it it's for the vanilla ed. only. the reason for this, the velvet ed. is a UK version
while the vanilla is actually a US release. so you'll need UK dlc for defence. the only pain of buying Vanilla,
is you have to buy the fairly expensive dlc packs I think the MP pack is 20 while PoTFF is 30 bucks.
so I guess it depends whether you Must have your content on disc or not. the versions are completely compatable
for MP so no worries there. also save game files from the Vanilla edition will have to be imported via console codes
to be used with the Velvet Edition (it's quite an annoying process) once done though you're good. I have both editions lol.
as for the Dragons Dogma day 1 dlc ...
I love the game so much some 99 cent and 2 dollar dlc didn't mar such a Superb game for me
it's just so much fun and a well made game that to miss it is like never having seen a sunrise or sunset.
it's that good. dragons especally have never been done so much justice as they've been in DD
Finally, yes the Two Worlds 2 community seems to have died down. sadly.
building a successful town is fairly easy lots of shops only an ore mine and smith. lots of grain and meat and voila
I prefer my city making crystals since they're a pain to find.
Lastly,
Kingdoms of Amalur was my #1 favorite game until Dragon's Dogma came out
I am not joking either. I loved the different approach to Hack & Slash with variable button actions
merely by pressing the button at different times. the plant growth as you walk into a cave etc. just blew me away!
it's rare you see things like that. it was a visual treat for me. in the end though it's all about gameplay and
fun factor and while the Dead Kel dlc nearly won me back to amalur,
Dragon's Dogma was superior in every way from the graphics to the control interface and even
the monsters had a greater variety and also the ability to trade with friends through your "Pawn"
that part rocked as well. just my 2 cents lol.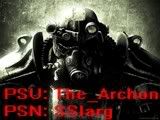 Games I am Currently Playing: DC Universe Online, Battlefield 4
PREORDERS: DESTINY (PS3) Diablo III Expansion (Reaper of souls) PSN: SSlarg add me!
Re: Anyone have sacred 2?
Im on the fence about DD & KoA. They both have DLC (I have a DLC peeve that just wont go away) that will drive the games price up if I decide to buy it, and really, whats the point of a game if you dont have all the content?
Or is the content just fluff, and not needed?

DDs "Pawns" interest me, that seems like something no other game has done.

I'll redownload TW2 Velvet if people are going to be playing. Ive played the main campaign, but only a few MP maps.
Re: Anyone have sacred 2?
[ Edited ]
I still cant find a new copy of Sacred 2 locally.
I hate Gamestop and their policies, so I dont buy used games. Besides that, I like my money to go to the people who made / distributed the game.

For those interested, Amazon has new copies for $30. Yea, its a bit high for the game, but I dont see any other option
Re: Anyone have sacred 2?
I have the same feeling towards gamestop, plus i prefer new games. Cant find sacred 2 new either, but the local gamestop has 3 copies used. Hopefully one will be in decent shape and have a manual,lol. Its a shame our coop choices are so limited , hopefully between all of us and these older titles we can have some fun. Thank you all for the comments/input. Happy gaming and see you all soon.